This was absolutely the highlight of my time here so far. Steph and I ended up going on a last minute trip to Bangalore to join a team of residents/staff from ASSA who were participating in a race. We knew very little about the trip prior to arriving. We didn't know to what capacity we could join in on the activities, but we at least wanted to travel with them and cheer them on at the race. The race was called the TCS World 10k Bangaluru and included international professional athletes. The participants from ASSA (as we found out once we arrived) would be doing the 4.2km race for people with disabilities.
We were fine knowing barely anything about how the weekend would pan out and were ready for an adventure. Steph and I enjoy not researching the place too much ahead of time and just going on recommendations from others on sights to see. To add some details about the typical things that seem to happen here in India, bump number 1 in the road came when we were told a couple days before we were to leave that there was only a train available TO Bangalore and we would have to drive back with a staff member from ASSA on Sunday who was already planning to drive there and back. At this point we knew the drive would be around 10hrs, but we agreed to it because we really wanted to join in on the adventure. The second bump came the day before we were to leave when we were given our train confirmation ticket and I read my name spelt as "Katherine Faorfun" with an incorrect passport # as well. The advice I was given was to pretend I was sleeping on the train when the ticket checker comes around because they only usually ask for one piece of ID, and all of Steph's information was correct on the ticket. Ha, everyone seemed to agree on that plan so I went with it (it ended up working :)). We didn't even know up until that point how long the train ride would be or what class we would be travelling in on the train. We also didn't know our accommodations or in what capacity we would be in the race – if we would be running 10k, helping push people in wheelchairs, or cheering from the sidelines. The whole train experience was amazing with the team. First, we took a bus with everyone to the first train station that would take us on a 2hr ride to the next transfer station (don't kid yourself – the buses and trains aren't accessible, we learned the transfer techniques for people in wheelchairs to get into buses can be quite entertaining. They are coach style buses so you have to go up the 2-3 steep and narrow steps with a narrow path between seats). When we arrived at the train station, all of us helped ~15 people in wheelchairs wheel down to the end of the platform, down a ramp, across multiple train tracks, and up the other side. No one seemed to be concerned whether a train was coming or not and of course at least a few people got stuck at various points while crossing. We got on the first train which consisted of people again scootching up the steps of the train and into the main compartments, with the isles full of their wheelchairs.
The excitement of everyone was contagious. Most people who live at ASSA have very few opportunities to leave campus (we aren't exactly sure the reason for this yet, we think primarily due to close surveillance from the organization and no support for community mobility), so they were thrilled to be going on a field trip. The next station was similar in that we all had to cross the tracks again and then we waited for about 3 hours until our next train arrived. We had a meal handed out that was a pre-made packed dinner from ASSA and then we all just sat on the platform enjoying the outdoors, eating our meal and chatting (lots of "Tamenglish" – Tamil + English). The next train we were split up from the group because the only tickets available for us were in the higher class with A/C (didn't mind that!). It was a 12hr trip on an overnight train ride, so we really just got on and went to sleep. I don't think I'd ever been on a train before, definitely not a sleeper train so I don't know what I was expecting, but there were no private rooms. Just a car full of beds 2 or 3 beds high separated into little partially divided compartments. Sheets and pillows were provided, but the beds were definitely not meant for tall foreigners. They had the squatting toilets on the train that emptied straight onto the tracks below us, so it was an adventure going to the washroom. In the morning we were able to join the rest of the team for breakfast on the train and anticipating our arrival.
The arrival in Bangalore was chaotic. I think it is an Indian thing, but every time we were moving from one place or another there always seemed to be a rush. People were practically thrown off the train or bus and for the first little while, they were put into any random wheelchair with any available cushion. This may not seem like a big deal to some people, but think about a wheelchair as an extension of yourself when you don't have the ability to walk. The cushion is especially important because each one is customized to the individual. So from an OT perspective it was mortifying to see people just tossed into a chair, and then to watch them struggle to transfer wheelchairs once things had settled down. From a practical perspective, it just doesn't make sense to put people in the wrong chair only for them to have to switch and search for their own. Thankfully by the end of the weekend Steph and I took on the role of wheelchair/cushion police and would try to explain the importance of people being given their correct wheelchair when coming off a bus or train and also facilitate a more efficient process (like storing the cushion with the correct chair during transport).
We had an amazing group of people hosting us once we arrived in Bangalore who spoke amazing English and many had travelled to Western countries and had an appreciation for our perspective and our experience in India so far (very refreshing feeling). One guy even took his spare time to drive us to a westernized grocery store where we could get a few familiar treats! We were so happy to learn that we would be staying in the same residence as the rest of the team where meals were served to us (similar to ASSA). Again, the residence wasn't accessible and half of the people were staying on the second floor where they had to be carried up a huge set of stairs (No one thought to arrange accessible accommodations for a large group of people using wheelchairs?!). This lack of awareness and education on the needs of someone who is in a wheelchair was something that was EXTREMELY apparent after our weekend with the team. We realized it was our first time in the community with people who were in wheelchairs as up until this point everything we did was on campus (the kids in the community are not in wheelchairs). We realized the significant social and cultural implications of being a wheelchair user at least in Bangalore and were are assuming it would be even more challenging in the smaller villages. Bangalore is known as the "Silicon Valley of India", yet they don't seem to have much in terms of technology that would facilitate more accessible communities or buildings. On top of that, the social understanding of disability was so low of everyone we interacted with. For example, everyone would just go up behind someone in a wheelchair and begin pushing them to where they thought they needed to go. Imagine if someone just came up behind you without any warning and began moving you around in a way that was out of your control. I recognize I have a much different understanding and lens on these issues having gone through two years of school for OT, so I constantly have to remind myself that these things aren't common sense for everyone. The basics of supporting someone who is in a wheelchair is to first and foremost ASK before you touch them. It is best to approach from the front where you can make eye contact. A few of the people with us on the trip are more than capable of propelling themselves around – they are some of the guys I have previously posted pictures of that can easily do wheelies and have spent hours learning how to jump curbs and go down steps in preparation for moving around the community.
I don't even think the people in wheelchairs themselves recognize the social implications of having someone push you around everywhere. In a way it perpetuates the stereotype that someone in a wheelchair needs help and cannot be independent. The guys who we see flying through campus in their chairs were so passive about the whole situation and would just sit there as people moved them from place to place. Eventually while we were out and about I encouraged one of the guys (Lakshamanan) to do a wheelie to at least show off to our hosts his amazing skills. He was so hesitant to do so and at first said no because he thought he would get in trouble by one of the staff members. My mind was blown – what the heck was all the preparation at wheelchair training for if they were expected to be passively pushed around everywhere?!?!?! Eventually I convinced him to do it for a photo (they never turn down a photo opp), and he agreed. This happened at the metro station (yes, we took a ride on the metro as part of our "city tour", as it is considered a local attraction since it is so new and not many ( if any) other cities in the south of India have one) and as soon as he did the wheelie a metro attendant became very upset and asked them to stop saying "NO, NO, NO STUNTS!!" <– people, this is not a stunt, it is a requirement of mobilizing while in a wheelchair!!! Wheelies are used in various ways to navigate difficult or uneven terrain. Thankfully, everyone laughed off the angry attendant and loosened up. After that Lakshamanan, Karthik and Sankar slowly started showing off their skills and became more independent while we were out and about. They were even doing wheelies on the metro.
The tour of Bangalore wasn't too extensive because they underestimated the time it would take to get so many people on and off a bus with their wheelchairs, but it was still such an enjoyable experience overall. I didn't go on the excursion to see the city, I went to support the team from ASSA in the race. Which brings me to race day! We got up early Sunday morning to make sure we had enough time to get everyone on the bus and to the start line. The atmosphere of the race was amazing, as expected with music pumping and athletes everywhere as it was an International race.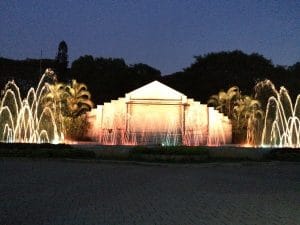 The morning started off a bit on the wrong foot after Ram (who was "supervising" us instructed Steph and I to bring all of our bags (overnight bag, purse and groceries) to the race to transfer into the car that we would be travelling home in because we had to leave shortly after the race to begin the long journey home. Steph and I thought this was a terrible idea, knowing the chaos that happens before a race begins, but he insisted despite us trying to tell him otherwise. And guess what – Steph and I ended up running the race with all of our bags with us, groceries and all. On top of that, we ran in pants (cultural sensitivity), and two cotton shirts because we were wearing a shirt and then at the last minute we were given a team shirt to match everyone else and weren't able to change. BUT, we were so excited to be there joining in the excitement with everyone that it wasn't enough to ruin our mood! Each person in a wheelchair was already paired up with a buddy to help push them if needed.
Steph and I began the race along side everyone else and informally paired up with someone in a wheelchair. As I could have predicted, the "buddies" were in no way prepared to push anyone for 4.2km in a wheelchair, so the person I was with literally lasted about 200m before having to stop and walk, while Karthik wanted to continue at a good pace in his chair. For the first 1-2km (on top of my ridiculous outfit and "accessories") I ended up pushing Karthik on and off as he would wheel for a bit, and then rest while I pushed him. Thankfully someone in much better shape than myself and wearing regular run gear offered to help us out because I think they saw how much I was struggling to support him. Unfortunately that meant I ran/walked the rest of the race by myself because Steph and I had split up earlier on. Regardless, we were so happy to see everyone's smiling face once we reached the finish line and everyone had their medals! I was so so proud of everyone for finishing it, especially for the people who were able to propel themselves for parts of the race.
The party in the tent after the race was definitely a highlight of the weekend. There was a stage where some of the team members got up onto and were showing off their skills in the wheelchairs again. There was also music playing and the whole tent turned into a big dance party. I couldn't believe how in to the music some of our team was getting and watching them dance in their wheelchairs was so hilarious. I still find Indian dance moves so entertaining because to me it just looks like arms flailing everywhere. But everyone seems to be doing the same moves, so I am assuming they are actual dance moves! I have some videos and pictures that do the scene justice enough that I don't have to explain it any more!
In case the weekend wasn't eventful enough, our intended 8-10hour drive home turned into an overnight journey. As we were headed out of town we got a call from the secretary (important guy at ASSA, not a office secretary) that his flight was cancelled and he would now be coming home with us and his wife. We had to wait for an hour for him to meet us where we were, and then they decided to split up the drive because we had to make frequent stops while driving to accommodate the long journey for the secretary. He has muscular dystrophy that has caused quadriplegia, and he was required to be repositioned frequently while in the car. It also meant that his attendant and other helpers had to pile in the trunk of the car with the rest of the luggage so we had 8 people in the vehicle. Thankfully he has many connections throughout southern India, so he was able to quickly arrange accommodations for us at an NGO where he is a board member that was located between Bangalore and ASSA. We arrived there around 9:30pm, ate dinner, went to bed, and then woke up at 4:30am the next morning to get back on the road and finish our journey to ASSA.
Unfortunately some of my favourite videos aren't able to upload, but I hope the pictures give a better idea of the experience. I apologize for the lengthy blog, but thank you for taking the time to read it as I wanted to share how enjoyable of an experience the weekend was and also scratch the surface of some important social and cultural issues that people with disabilities face here.